Shaft Size FAQ
Important Info to help you select the right size tool for your machine!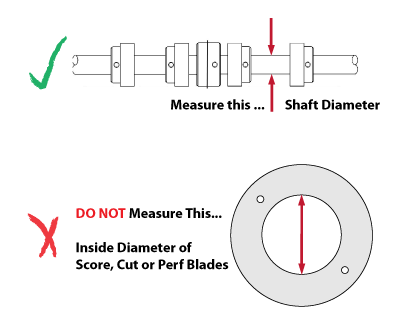 Note: It's important to use the SHAFT DIAMETER as shown in the
image above, to select the correct size Technifold tool for your machine.

Most machine manuals provide the inside diameters for scoring, cutting and
perf blades...

this is NOT the shaft diameter

. These inside diameter dimensions
are typically about 5mm larger than the shaft diameter.



For instance

: If your manual says you have a 40mm ID for scoring, cutting or
perf blades on an MBO or Stahl folder, you definitely have a 35mm shaft.



Another example

: Your MBO manual that indicates a 35mm ID on your scoring, perf or
cutting blades which means you have a 30mm shaft.

If your manual illustrates the ID of the actual tools themselves on which
the score, cut or perf blades are mounted, that is a more reliable indicator
of your shaft size. We want to be sure the right tool shows up on your
doorstep, especially if you have a job waiting!



If you are not sure, please give us a call at

973-383-7920


or

Email Customer Service

. We are happy to help you figure
it out...usually in less than a minute!

Rollem and Rosback owners have it easy...one size fits all.